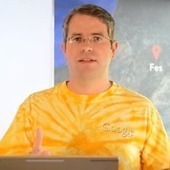 Today, keywords still play a significant role in search habits, and in how Google and other search engines deliver search results. The trend, however, is …
Neil Ferree's insight:
Social Shares is the New SEO Keywords count but not as much
The more Social Shares your Authorship creates, the better your Authority becomes. If this article was useful, please share it.
Your more often your Rich Snippet http://bit.ly/RichSnippet gets associated with your Brand and your USP the more business you get.
See on www.webpronews.com