See on Scoop.it – Backlinks for your Blog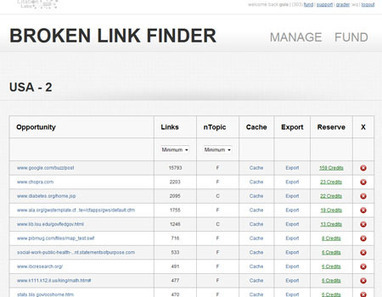 Excerpted from article intro:
"Broken link building may perhaps be the most effective, white-hat link building strategy in years. In particular, broken link building is appealing because the success of the campaign is directly proportional to how much good you do for the web. You profit only if you create good content to replace lost or abandoned content that webmasters still want to link to. This is the type of strategy that marries so many of the competing interests our industry: content vs. links, link earning vs link building, inbound vs. outbound, etc.
Below, I attempt to organize as much as I know about broken link building tactics. Throughout the piece I mention tools that will help you make the broken link building process scalable and less monotonous.
Table of Contents
1. Overview
2. Prospecting
2.1. Resource Page Targeting w/ Keywords
2.1.1. Selecting Keywords
2.1.2. Prospecting Phrases
2.1.3. Scraping Search Results
2.1.4. Extracting URLs
2.1.5. Header Checks
2.1.6 Opportunity Qualification
2.1.7. Prospecting Tools
2.2. Resource Page Targeting w/ Model URL
2.2.1. Site Selection
2.2.2. Backlink Acquisition
2.2.3. Extracting URLs
2.2.4. Header Checks
2.2.5. Opportunity Qualification
2.2.6. Prospecting Shortcuts
2.3. Direct URL Targeting
2.3.1. Site Crawling
2.3.2. Opportunity Selection
3. Content Creation
3.1. Rebuilding Tools
3.2. Raised Expectations
4. Outreach
4.1. Contact Finding
4.2. Email Templates
5. Conclusions & Community
6. Credits…"
Each element is analyzed with detailed information. Read full article here:
http://www.seomoz.org/blog/the-broken-link-building-bible
See on www.seomoz.org